For Higher Education Professionals
At EdTech Connect, we understand the unique challenges and opportunities faced by higher education professionals. That's why we've created a community where educators, administrators and specialists can come together to share their expertise and knowledge.
We provide a trusted space where you can access unbiased insights and real-world experiences to make well-informed decisions about technology solutions. Our platform empowers you to navigate the complex landscape of higher education software, connect with peers who share your passion, and stay ahead of technology trends.
For Higher Education Solution Providers
EdTech Connect is not just a platform; it's a marketplace where your solution can shine. We offer software providers a unique opportunity to showcase their solutions to a highly targeted audience of decision-makers in higher education. By claiming your profile on EdTech Connect, you can present your solution and services with authenticity and transparency.
Our verification process ensures that your audience consists of higher education experts who understand the nuances of the industry. Plus, our enhanced and premium access listings provide you with the tools to boost your software's visibility, gain insights from user reviews, and connect with institutions looking for solutions like yours.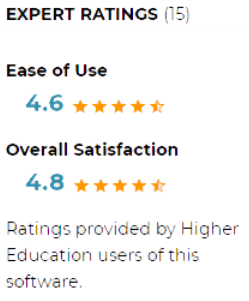 Ratings & Reviews
Unlike other software rating platforms that incentivize users with compensation, at EdTech Connect, all our ratings and reviews are voluntarily contributed by verified Higher Education experts.
Our experts not only provide these valuable insights but also have the opportunity to earn digital badges as a testament to their expertise. Every software and professional service listing submission undergoes a meticulous review process by our active Higher Ed community.
Our Ratings and Reviews section is thoughtfully designed to offer you a real-time, dynamic snapshot of the practical applications and effectiveness of EdTech software and services. It's a collaborative effort by our dedicated community of Higher Education professionals to ensure that you receive the most accurate and insightful information for your decision-making process.
Team
The ETC team has several decades of Higher Education experience, in the classroom, information technology, and student services.